Hi folks!
It's finally autumn! Who has been waiting for it? I definitely was! And thankfully as we entered September the weather also got very autumny and I'm so happy for that! I found this tag on Sarah's blog last week and I couldn't not do it. You can read her answers here and if you haven't yet, definitely check her blog out. She changed her theme for an autumn one and it's amazing!
Best autumnal themed book cover?
This question made me think a lot actually but my choice fell onto Every Heart A Doorway's cover. I grew up in a small village and we played a lot in the forest that is near and it gives me those old vibes back (also the Hungarian cover is different from the UK one).
Which fictional friend group would you trust with a Ouija board?
There are so many friend groups out there that I love and adore! But the one I'd go with is the gang from the Magnus Chase books!
Which book setting would you love to be celebrating in during Halloween night?
This is the most generic answer but definitely Harry Potter. I mean, magic and all.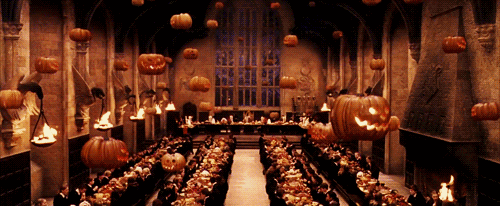 Best autumnal food description inside of a story?
I don't actually know if there is any..
Which fictional character would you dress as? (I assume this is for Halloween)
As a red-head it's quite difficult to find characters (I know there are wigs but I'd like to work with my hair colour). But I'd definitely love to dress up as Genya Safin from the Grisha books by Leigh Bardugo.
An antagonist you would pledge your allegiance to?
If you read my blog, you know me well so this answer should not surprise you. It's the Darkling. I know he is a horrible human being. But I still love his character.
The creepiest book you've ever read?
I remember I read this one years ago. I think I was still very much in high school. It's a YA thriller, it's a French author's book and it hasn't been translated to English but it was translated to Hungarian! The French title is Frères de sang, the Hungarian is Vértestvérek. I'm not sure what the French one really means but the Hungarian one could be translated to English as Blood Relatives. Anyway, I remember feeling creeped out by this one. I have not re-read this since so I'm not sure if I'd still be creeped out. Maybe I should re-read this in October!
A book you've yet to read but will read this October?
I am a little short on physical books to read (meaning I'm catching up very well on my physical TBR). But I ordered The Last Wish by Andrzej Sapkowski in August so I think I'll read it soon, maybe even before October.
This would be the tag! I hope you all enjoyed it! And if you want to do this tag, I tag you!